Know-How
PolyBridge® brings high added value to the creation of innovating and collaborative projects by implementing R&D-project qualification tools and activating a strong international network of professional contacts in different business sectors.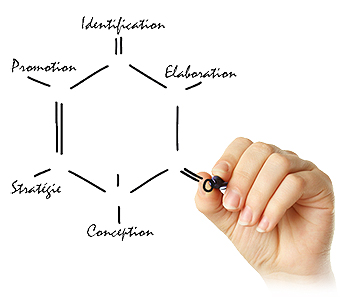 PolyBridge® breaks new ground by creating bridges between the wood industry and chemists
seeking biomolecules with high added value and alternatives to fossil fuels.
In order to do so, PolyBridge® activates a strong network of professionals in the industries of wood and chemistry
in Europe, North America and Asia. PolyBridge® also creates collaborative R&D projects in partnership with French Competitiveness Clusters, European Chemistry clusters and European research organisations reputed for their expertise in the field of bio-based chemistry.
PolyBridge® implements qualification tools for R&D projects
inspired by Mediation Workshops indispensable for getting from the idea phase to real R&D-project opportunities. PolyBridge® thereby contributes to creating collective initiatives from diverging concerns or interests within a company or collaborative consortium by establishing relations of trust between the different stakeholders of a project.